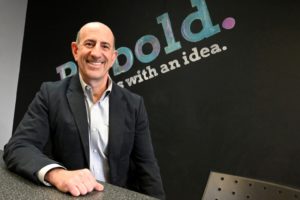 Dan is the man, the myth, and the legend when it comes to Envision. WAY back in 2003 he started offering web design services to local businesses under the Reminder Web Design name which eventually grew to become Envision Marketing Group, a full service marketing and advertising agency, launched in 2010.
As our faithful leader, Dan's favorite part of his job is the creativity and the ability to work on such a wide variety of projects and challenges for our clients. No matter what industry your business is in, he'll get to know you and your business goals to help take your marketing to new heights!
He graduated from the Isenberg School of Business at UMass Amherst with a degree in Marketing and spent time living in Boston before returning to Western MA. Dan plays in a men's hockey league, so you'll often find him leaving the office with skates in hand. He and his wife, Deb, live in East Longmeadow with their dog, Bruin (who's made a few appearances in the office), and love to travel to Charleston and Philadelphia to visit their children. He's an avid Boston sports fan and tries to make it to at least one Bruins game a season. Ever wonder what his secret talent is? Rumor has it he can play a killer version of "You Can't Always Get What You Want" on the piano!
413-525-3247 x102